Tracing back responsability through open data
What we know
The fires in the Amazon that started on August 10 were a deliberate action driven by economic interests. Farmers and ranchers in the region had organized what they called "a day of fire", where they would set forests aflame to clear land for pasture and planting. Their motivation was backed by the promises of Brasilian president Jair Bolsonaro to open up the Amazon for a massive scaling of agricultural production. Also, in the neighbouring country Bolivia farmers joined the "day of fire", after their president Evo Morales had launched a decree one month earlier, that actively encouraged fire clearings by calling it "a right of all Bolivians" to seize the rainforest.
However, pointing into their direction alone wouldn't capture the full picture. The clearing of rainforest for agricultural production is a response to the increasing global demand for commodities like soy and beef. In other words: We as consumers are part of the problem, just like many intermediaries in the supply chain who determine prices and decide when to comply with environmental standards and when to deliberately ignore them.
Current VIIRS Fire Alerts, updated daily:
Here we need your help
We are asking the tech community to help us crack the puzzle through the creative use of open data. We have compiled various data sets to answer the following questions:
What are the supply chain linkages that directly or indirectly encouraged the "day of fire"?
Is there a relation between commodities and specific markets and fires? For example, is fire more likely to be used for beef produced for domestic markets than when exporting to China or the EU?
Which local conditions and factors can we identify that might make a fire event more likely? For example, are fires more or less likely in regions inhabited by indigenous peoples?
The basic data
In the Resources section you can find a list of basic data that we think are the minimum requirement to answer the supply chain questions. It contains a link to the API of Global Forest Watch, which provides access to geodata of the fire events, as well as supply chain data provided by the platform trase.earth on the suppliers of beef and soy going out of Brazil and soy going out of Bolivia.
The additional data
Adding more data will potentially help us to understand even better, which conditions played a role in the fires. We'd be particularly interested in the relation of fire outbreaks and indigenous territories, but you might come up with even more questions and unexpected angles. Therefore we added a list of additional data sources on the Amazon region. Feel free to experiment and make your own investigations.
Relevance
Combining all these different data sets might provide useful information not just to us, but also to NGOs and journalists investigating environmental compliance within global supply chains or other conditions for rainforest destruction. Any deeper insights could help to frame the public conversation differently and bring us closer to new ideas for taking the right measures for protecting the Amazon. As soon as we have some interesting results, we will pass them on to NGOs working in this field.
How to get started
Download the data of your choice and let us know you are on it. We have set up a Slack channel, where you will hopefully meet other people to collaborate with and where you can reach out to us with any of your questions. When you join, please introduce yourself briefly so that we know which skills you contribute and which skills you might be looking for.
Alternatively, you can leave a comment under this post or send us an email to firedatachallenge (at) theamazonlab.org.
Feel free to approach us anytime if you have further questions or need support. We will update the resources on a regular basis and keep you posted on this page on relevant updates. Of course, we'd appreciate if you could tell your designer / developer / data science friends about this project and invite them to join.
_____________
Updates
Monday, 26 Sept 2019
Here is a nice visualisation example by Mapbox helping relate to relate to the Amazonian crisis. Consider it inspiration.
What if the Amazon Rainforest deforestation was in your own backyard? Data-driven digital agency @digitalfans_se created https://t.co/NLU2lyJimF to help people feel the scale of the destruction #AmazonRainforest #AmazonFires #builtwithmapbox pic.twitter.com/PRe95dsVjt

— Mapbox (@Mapbox) September 18, 2019
Monday, 26 Sept 2019
Trase released a new data set on Brazilian beef production.
How exciting! #Trase new Brazilian beef subnational data is now live. The new data maps the deforestation risk of the Brazilian beef from the municipalities from where cattle were raised through the 150 importing countries. You can access it all at https://t.co/XvMAtKkUbH pic.twitter.com/NeCejid7A8

— Trase (@TraseEarth) September 17, 2019
Monday, 2 Sept 2019
An article of MAAP is recommending to not focus on satelite images alone to draw conclusions on the fire events: "We continue to warn against using satellite-based fire detection data alone as a measure of impact to Amazonian forests. Many of the detected fires are in agricultural areas that were once forest, but don't currently represent forest fires." The API of Global Forest Watch provides other fire data sources as well like the VIIRS data.
Speaking of fires on agricultural land: Recently, some media have started to convey the message that many fires were lit on already cleared ground (as a routine procedure after the harvest). We'd like to know to what extent that is true: How many of the fires were lit on forest land versus land that had already been cleared before?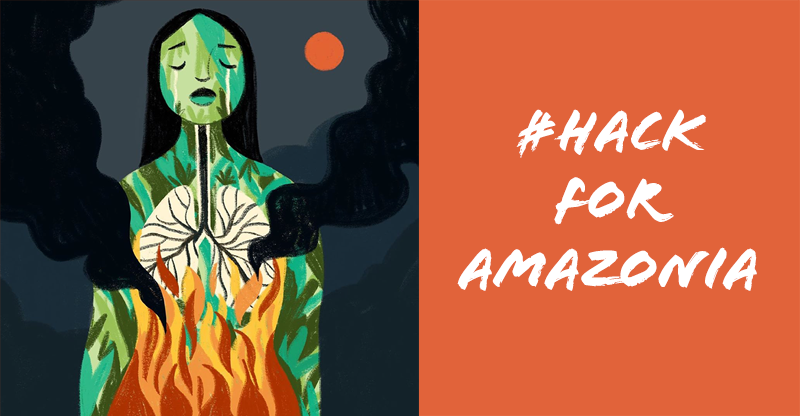 Resources
Basic data:
Additional data:
Other useful things:
Interesting Reads:
Communication: